ABOUT THE LANDSCAPE AWARDS

THE LANDSCAPE AWARDS
The Landscape Awards, presented by SanDisk, is looking for Australia and New Zealand's most talented landscape photographers. While the Awards celebrate the work of local photographers, images can be captured anywhere in the world. The Landscape Awards is hosted by Australian Photography and the top images will be celebrated in our June-July 2024 edition (available May).
WHO CAN ENTER?
The Landscape Awards is open to residents and citizens of Australia and New Zealand. Amateur and professional photographers can enter. For the purposes of the competition a resident is defined as someone who has lived in Australia or New Zealand for at least six months at the time of entering this competition.
PRICING AND DEADLINES
EARLY BIRD
$25 (until 11.59 AEDT Sunday 3 December 2023)
STANDARD
$30 (4 December 2023 to 11.59 AEDT Sunday 28 January 2024)
LAST MINUTE 
$39 (29 January to 11.59 AEDT Sunday 18 February 2024)
* All prices in Australian dollars.
WHAT ARE THE JUDGES LOOKING FOR?
The Landscape Awards is a celebration of landscape photography, both in natural and human-influenced environments. The judges are seeking images that showcase the breadth of diversity of the landscape, from familiar scenes to lesser explored subjects. Images containing people or animals are welcome in the competition, though the landscape should always be the main focus of your image.
IMAGE PREPARATION
• Images must have been captured on or after 1 January 2022.
• Images may be captured digitally or on film.
• Do not include watermarks, logos or any other branding on your images.
• Images must be in JPEG (.jpg) or PNG (.png) format and should be at least 2,500 pixels on the longest edge. Image file size should be no larger than 5MB. (NOTE: To get your image under the 5MB size limit, try choosing a JPEG compression of 9/12 (Photoshop File > Save As) or 80% (Lightroom File > Export). This will reduce the file size of your image without visibly affecting image quality.)
ABOUT THE CATEGORIES
There are four categories in The Landscape Awards: Landscape, Seascape, Urban and Aerial. You can enter one or more categories as many times as you like.
Landscape: This category is for photographs of inland landscapes, from lowlands to alpine regions. People and animals may be included in this category, but they should not be the primary focus of the image. Aerial images are not allowed.
Seascape: This category is for photographs of coastal subjects, including the ocean, shoreline and surrounds. People and animals may be included in this category, but they should not be the primary focus of the image. Aerial images are not allowed.
Urban: This category is for photographs captured in urban environments, including cities and towns. The main subject in your image should depict the built environment or an element of it. Aerial images are not allowed.
Aerial: This category is for photographs captured from an elevated position; for example from a drone, aircraft, or elevated structure such as a building or bridge. Images may include wilderness, rural, suburban or urban scenes. Note: The Landscape Awards supports the safe and legal operation of remotely piloted aircraft (RPAs), including drones. All entries captured with an RPA must comply with local rules and regulations. Any images suspected of being captured illegally will be disqualified. In order to be eligible for a prize, entrants must be able to provide verifiable EXIF data including drone type, position (latitude and longitude) and altitude information. Competition organisers reserve the right to disqualify any image they suspect may have been captured illegally.
Images must be wholly photographic in origin. Images created wholly or in part with the assistance of artificial intelligence, 3D, or illustration processes may not be entered. 
HOW MANY TIMES CAN I ENTER?
You can enter as many times as you like, in as many categories as you like.
TERMS & CONDITIONS
You can find our terms and conditions here. The terms and conditions contain important information about the competition – please read them before entering.
   /   

Photographer of the Year has been approved by the Photowatchdog and rated TopDog. Photowatchdog is the advocate for fair photo competitions in Australia.
PRIZES
Winners, Runners-up and People's Choice will share in a total prize pool of more than $22,000, including $8,000 cash. For more information about prizes click here.
RESULTS AND RECOGNITION
Winners, runners up, and top entries in each category will be published in Australian Photography in the June-July 2024 issue (available May). Announcements will also be made online at australianphotography.com and thelandscapeawards.com.au in May 2024. Certificates of recognition will be emailed in May for entries that receive Commended, Highly Commended, Top 50, Top 40, Top 30, Top 20, Top 10, Runner-up or Winner awards. Following the winners' announcement, People's Choice judging will begin. This will be conducted on the Australian Photography Facebook page where the Top 20 from each category – Landscape, Seascape and Urban – will be listed. Anyone is welcome to vote for their favourite images. Voting will be open for approximately two weeks. The image with the most likes, in each category, will be named the People's Choice winner and will be notified by email.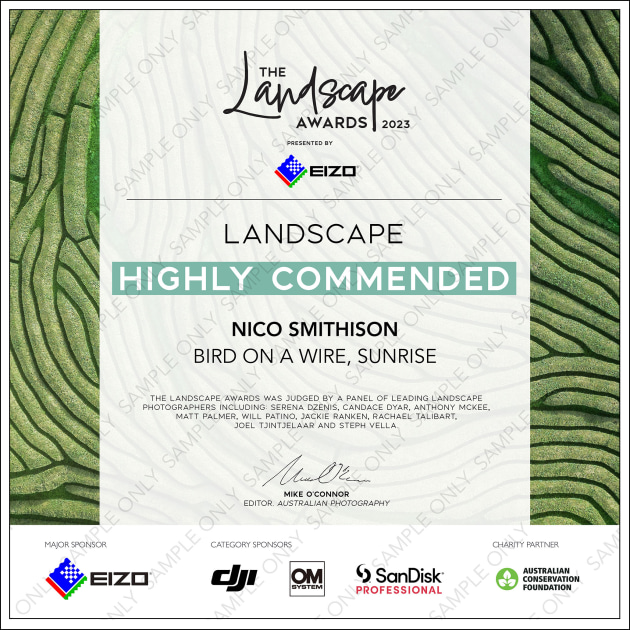 JUDGES
The judging panel for The Landscape Awards will be announced in December 2023.
CHARITY
$5 from each entry to The Landscape Awards will be donated to the Australian Conservation Foundation.
The Australian Conservation Foundation is Australia's national environment organisation. Since 1965, they've protected the nature we all love – our unique wildlife, and our beautiful beaches and bush.
They influence governments and businesses to protect the animals, rivers and reefs, and hold decision-makers to account without fear or favour. Their work is evidence-based and helps nature and people thrive for generations to come. 
If you'd like to join us in supporting the work of the Australian Conservation Foundation, please donate here.
ABOUT US
The Landscape Awards launched in 2022. The competition is run by Yaffa Media Pty Ltd, publisher of Australian Photography Australia's most trusted photography media brand.
GOT A QUESTION?